Immigration Services in Japan
RSM Shiodome Partners is a member firm of RSM International, an international accounting network with more than 51,000 members in over 800 offices in 123 countries around the world. Our qualified professionals include certified public accountants, tax accountants, labor and social security attorneys, administrative scriveners, and judicial scriveners. With the help of our experts, we can provide prompt and accurate support for all immigration cases.
【Table Of Contents】
1. Features of Immigration Services of RSM Shiodome Partners
"One-stop service"
In Japan, a wide range of administrative procedures is handled by different specialists. For example, a tax accountant handles tax returns, a social insurance/labor attorney handles procedures related to social insurance and labor insurance for workers, an administrative scrivener does procedures related to visas and permits, and a judicial scrivener does procedures related to the company and real estate registration. Even those who live here often do not know which specialist to ask for help with each given procedure.
RSM Shiodome Partners offers a one-stop service provided by professionals. There is no need to find out which procedure is in the domain of a specific specialist. The benefits of a one-stop service do not stop there. For example, outsourcing tax filing and social insurance/labor insurance to separate firms increases each service's labor hours and costs. By consolidating each service to one firm and sharing information between the tax accountants and social insurance/labor attorneys, the client can reduce the burden of having to provide sensitive information to multiple firms.
In recent years, Japan's immigration policy has been trying to manage the residency of foreigners not only from the perspective of immigration law, which is the area of expertise of administrative scriveners, but also from the perspective of labor law, which is the area of expertise of labor and social security attorneys, and tax law and taxation system, which is the area of expertise of tax attorneys. This is where our biggest strength comes into play as we not only have experts in immigration services, but we are also capable of sharing information horizontally while ensuring risks are detected and adverted. Our expertise in immigration law makes us unique and different from other immigration services as we have labor and tax specialists who work collaboratively.
"Flexibility and Quality"
RSM Shiodome Partners has a proven track record of undertaking work for a wide variety of clients since its inception. As a result, we are capable of handling a diverse range of clients with no limit to the scale of the company. We can work with clients ranging from medium-sized companies to publicly listed companies and across a wide range of industries and sectors.
In terms of quality, as a member of RSM International, we adhere to the high standards of the international network and have established a system of multiple staff members under the supervision of in-house, nationally certified professionals to ensure that quality is maintained. By utilizing uniformly established internal processing procedures within RSM Shiodome Partners, we are able to provide high-quality, cost-effective, and stable outsourcing services for back-office operations.
2. Entry into Japan
(1) Application for Certificate of Eligibility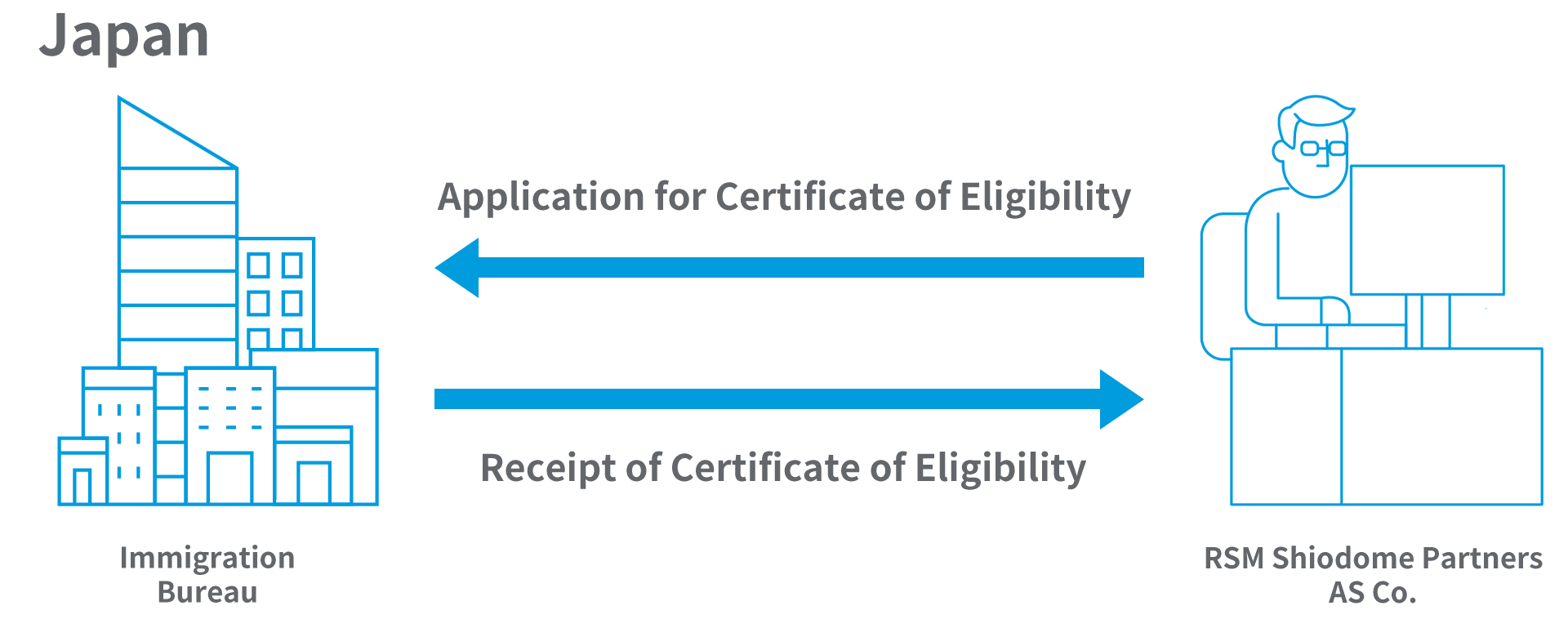 (2) Visa Application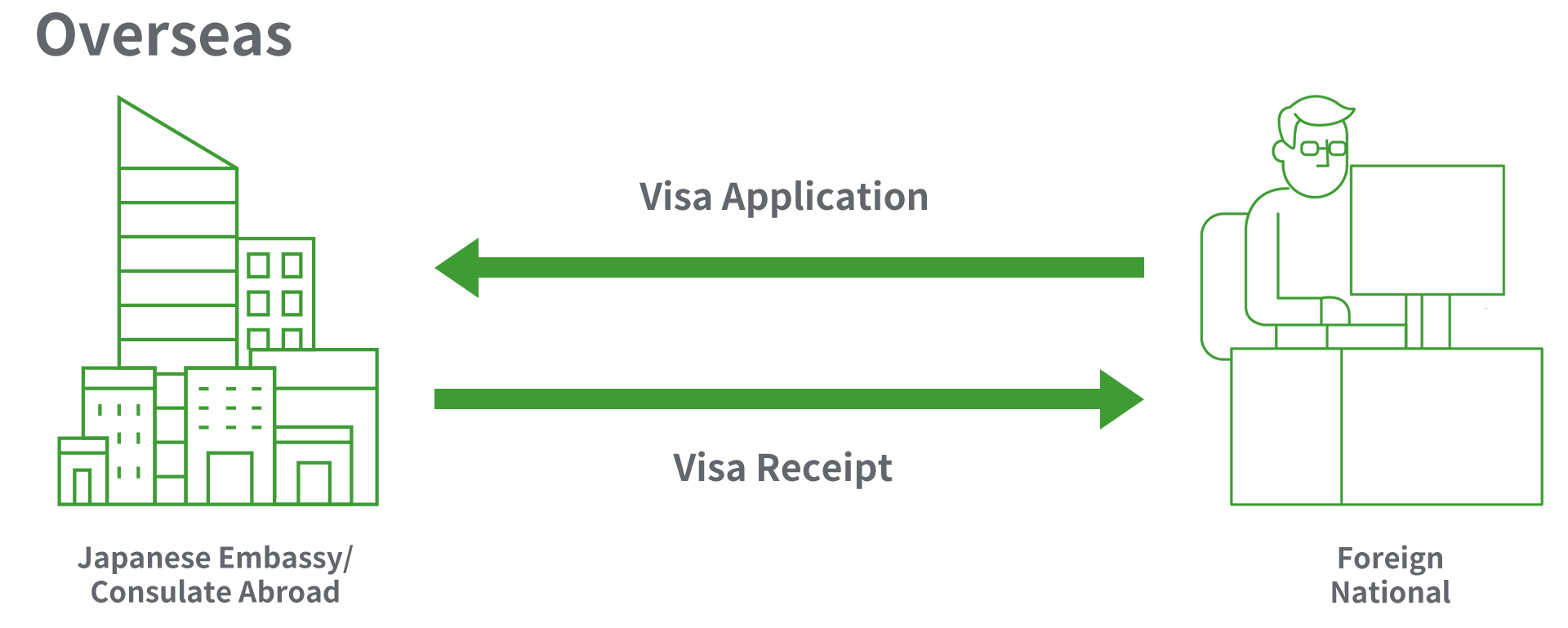 (3) Entering Japan
With the exception of a few countries, Japan's border measures require either a valid vaccination certificate or a certificate of pre-departure inspection. This allows entry into the country without having to go through the inspection upon arrival and waiting after entry.
Please be sure to pre-register for quarantine procedures on Visit Japan Web, as it will take much longer to check your documents in quarantine if you are not registered on Visit Japan Web.
Visit Japan Web
https://vjw-lp.digital.go.jp/
3. Certificate of Eligibility and Visa
Certificate of Eligibility
When a foreign national wishes to land in Japan with a status of residence other than Temporary Visitor, Specially Designated Activities other than Notification, or Permanent Resident, the Immigration Law stipulates that the Minister of Justice conducts a preliminary examination to determine if the conditions for landing are met. If all requirements are met, a certificate will be issued known as a "Certificate of Eligibility". The Certificate of Eligibility is issued upon application to the Immigration Bureau in Japan by the Minister of Justice after prior examination by the Immigration Bureau to determine whether the applicant meets the eligibility requirements for the status of residence and the landing permission criteria.
Visa (VISA)
A foreign national who wishes to enter Japan must have a valid passport and a valid VISA issued by a Japanese consulate or other appropriate authority. A VISA can be applied at the Japanese embassy or consulate with jurisdiction over the foreigner's place of residence. It is during this time that you will need to present the aforementioned Certificate of Eligibility. Since the pre-screening by the Minister of Justice has already been completed, the visa issuance examination should be expedited.
4. Why Our Clients Choose RSM Shiodome Partners?
One-stop service
RSM Shiodome Partners' certified public accountants, certified tax accountants, labor and social security attorneys, and administrative scriveners provide one-stop support for accounting, tax, human resources, and labor issues after a work visa application. We can provide support for human resource management after applying for various types of status of residence, including employment contracts, social insurance, payroll calculation, and obtaining permits and approvals.
Experienced and knowledgeable administrative scriveners with over 10 years of experience in immigration services will be able to provide support. Our experienced and knowledgeable Immigration Lawyers can provide prompt and accurate support for all cases.
Services can be provided in multiple languages, including English and Chinese. Our bilingual English and Chinese staff members are accustomed to dealing with global issues on a regular basis.
As a result, we have gained the trust and support of many clients. Please feel free to contact us using the contact information below.
Contact Us
Immigration Services – Fee Structure
Regarding the fee structure for our Immigration Services, we will provide a quotation either on a time charge basis or a fixed fee arrangement calculated from the estimated hours to be spent on the expected scope of work. Depending on the matters to be consulted, there may be cases where it would be difficult to apply the fixed fee arrangement. Nevertheless, RSM Shiodome Partners takes on the mission to provide excellent cost-effective services within the budget of the client. Please feel free to contact our consultants for the details of our fee structure.